February 2, 2021
What is a Pie?
It is a baked dish made usually of a pastry dough casing filled with many sweet and savory ingredients. Pies have different sizes, varying from bite-size to one made for multiple servings.
Sweet pies contain fruits, brown sugar, sweeten vegetables, and nuts whereas, savory pies are consist of either eggs, meat, and cheese or a mixture of vegetables and meat.
Pies contain a minimum of 2 layers a relatively thin layer is the first one which forms a crust after baking and it holds the second layer which contains a filling that divides them into different types.
A process of blind-baking is comprised of pre-cooked fillings placed in a pre-baked crust.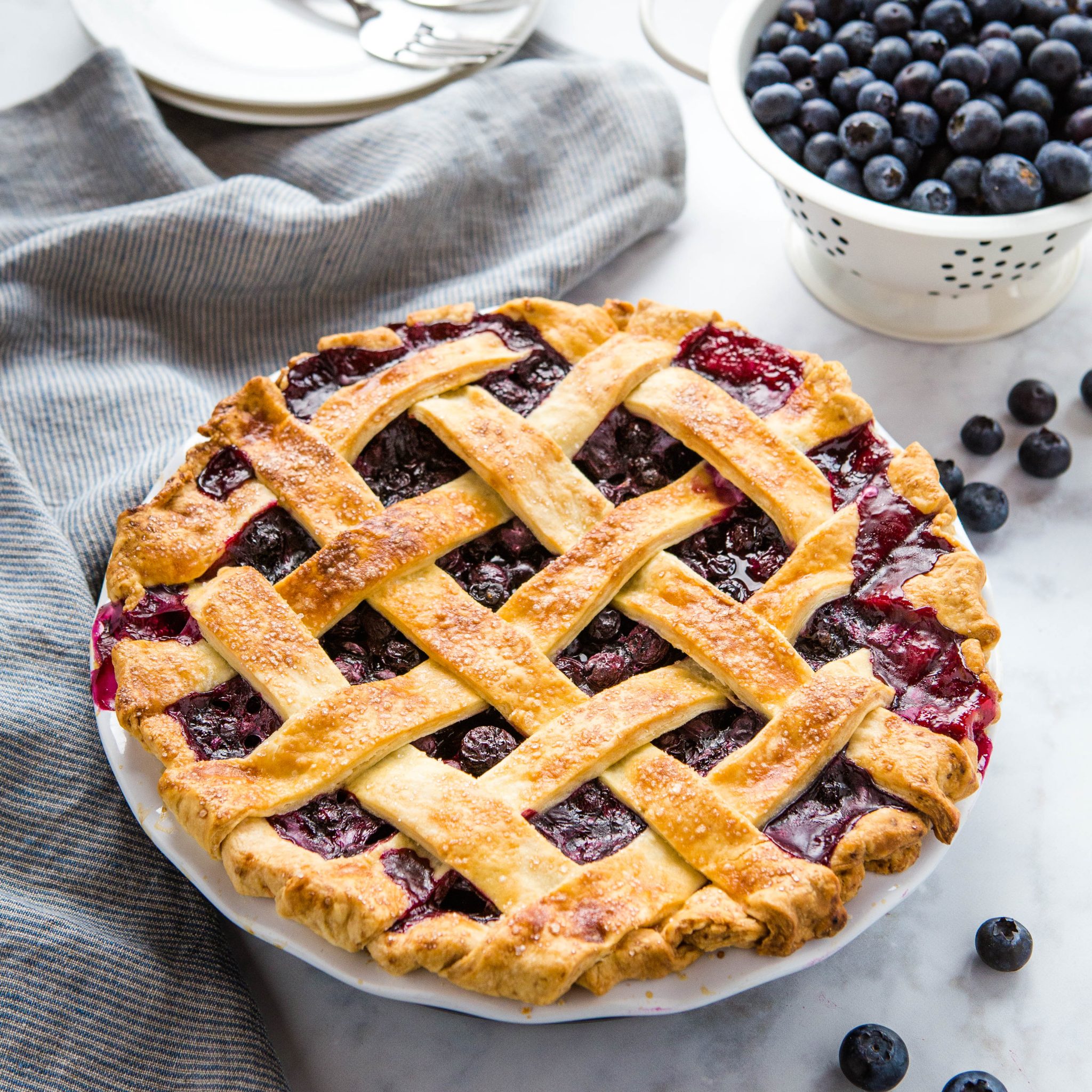 History of Pies
The pie was first introduced in the ancient Egyptian culture. Early Romans first made the pies which were learned from Greeks. Romans spread the trend of pie around Europe and other countries.
It is the most traditional American dessert after evolution for the past few years. The pie was so common in American culture that now we use "As American as apple pie"
In this article, we will focus on mini blueberry pie and the recipes related to it. So let's start.
Pie Shapes
Pie is a versatile dish and comes in many shapes. Some can be decorated or have decorative shapes. Some of the familiar shapes are
Classic Pies
They are known as a deep dish or regular dish with sides sloping to 8-9 inches.
Deep dish pies
Only baked with the top crust, made either with biscuit dough or baking powder. It uses a casserole dish or deep-dish pie pan for baking purposes.
Main Dish
Pie dough is line to add hearty ingredients and serves as the main meal. An example of such a dish is Quiches.
Mini Blueberry pie
It is the most loved dessert recipe for two persons. It is in the perfect proportion and are mini pies perfect for two. The crust is flaky, crispy, and juicy fresh blueberries are used in filling.
A perfect dessert for two
The delicious, bursting and tiny pies with fresh blueberries are enough for the satisfaction of two persons.
Hence, the next day you won't have ¾ of a pie left taunting you at breakfast.  There is no better way to justify the ripe, juicy, and fresh blueberries than to bake them into a pie.
For 2 persons, a mini blueberry pie is the best choice. You can make your crust or use a package of refrigerated pie dough.
The recipe makes either a two canning jar lid pies or one 6-inch, lattice topped pie.
It is an easy, delicious, and quick recipe with and golden brown latticed top to impress.
What ingredients do you need?
The pie is very simple to make and contain the following ingredients
Unsalted butter
All-purpose flour
Fresh or frozen blueberries
Cornstarch
Cinnamon
Brown sugar
Use frozen berries if fresh blueberries are not available. Use a store-bought refrigerated crust, if you don't want to make your pie crust.
A scoop of vanilla ice cream or a dollop of lightly sweetened whipped cream is the best option for finishing touch with most fruit pies.
How do you make it?
The pie is very simple to make.
Mix flour, salt, sugar, and butter in a food processor or with 2 knives or a pastry cutter to make a crust.
Cool the crust for half an hour.
Until the mixture thickens, cook the brown sugar, berries, cinnamon, cornstarch, granulated sugar, and cinnamon.
The dough is roll down into 2 pieces and take a pan and press one piece and bake.
To make the lattice the remaining pieces are cut into strips.
Add filling to the par-baked crust and assemble the pie by arranging strips on top, forming a latticed look.
Bake for half an hour.
Allow it to cool down and serve.
Nutritional Status
| | |
| --- | --- |
| Calories | 184 |
| cholesterol | 101 mg |
| Carbohydrate | 29g |
| sodium | 567mg |
| protein | 5g |
| sugar | 14g |
| fiber | 2g |
Individual Blueberry Crumb Pies
It has a bottom delicious pie crust with juicy blueberry filling and an irresistible topping of cinnamon crumb.
This recipe is perfect to satisfy everyone. It is divided perfectly among crumbles and pies. The mini blueberry crumb pie is served in a muffin tin.
What are individual blueberry crumb pies?
It is just similar to blueberry crumble cousins or blueberry pie, besides miniature-in one bite the best of both worlds.
What do you need to make individual blueberry crumb pies?
A saucepan
Muffin cups/ cupcake
A mixing bowl
A 12-cup muffin tin
Spoons and measuring cups
How to make individual blueberry crumb pies?
The recipe is consists of 3 steps.
Making the filling
Cinnamon crumb topping
Assembling
The process is super easy as well as you can enjoy the double treat in a single go.
The cups of the 12-muffin cup tray is buttered and then lined with pie crusts. To get the firm texture to place them in the refrigerator. Move to filling and topping for the moment.
For filling mix sugar, lemon juice, corn starch, and water in a pan over medium flame. Whisk constantly for some time and the mixture will get thick.
Remove it from the flame and add vanilla extract, blueberries, a pinch of salt, and lemon zest. Until needed set it aside.
Combine sugar, cinnamon, and flour, salt, and better simple for the cinnamon topping. Mix until large crumbs form.
Take the muffin tin out and divided it into cups evenly.
Generously add cinnamon crumb topping.
For 40-45 minutes bake the pie in preheated oven 350F bubbles will appear with a golden topping.
Allow it to cool down for 10 minutes.
Serve the dish warm with the addition of vanilla ice cream.
Tips
The blueberry pie will continue to settle and as it cools down the pie sink. Make sure to fill up the cups.
Don't leave them in tins for a long time to cool down.
You can use this recipe to make a whole pie rather than mini pies.
To make the recipe we use homemade pie crust.
Both the pie-filling and crumb topping can be made well before time.
How to store individual blueberry crumb?
we can store the blueberry pie for more than 3 days at room temperature.
Mini Blueberry Pies
These are a yummy bite-sized treat. The mini pies are baked with and topped with little stars. They are patriotic desserts for the Fourth of July or Memorial Day.
The total preparation and cooking time for this recipe is 40 minutes.
Ingredients
Blueberries 2 cups
Flour 1 tablespoons
Double pie crust recipe 1
Cornstarch  1 teaspoon
Sugar 3 tablespoon
Lemon zest 1 teaspoon
Unsalted butter, room temperature 1 tablespoon
Instructions
A circle cutter is to cut the circles out of the dough. In a mini muffin tin and each opening place one circle.
The remaining dough is rolled down and cut the stars from the dough using a star-shaped cookie cutter. Place them on a sheet lined with parchment paper.
Mix the ingredients in a medium-sized bowl with a large-sized spoon. The filling is divided among the prepared bottom crusts.
On a rimmed baking sheet, the muffin tin is placed with mini blueberry pies and put in the fridge for 15-20 minutes to get a firm texture. Preheat the oven to 375F, during this time.
Bake the star cutouts for 5-7 minutes at 375F. Allow them to cool down.
The mini pies are baked at 375 F for 18-20 minutes. Take them immediately out and place the star on each pie's top. Let them cool down.
Serve at room temperature.
Notes
Maine blueberries are used in this recipe. First defrosted at room temperature and patted dry. The fresh ones can be used as well.
Store in air sealed jars at normal temperature. Serve it at normal temperature.
Conclusion
This article is based on mini blueberry pie which most loved dessert recipe. Pie is a baking dish that usually consist of of a pastry dough casing with many sweet and savory ingredients. Pies have different sizes, varying from bite-size to one made for multiple servings.
Frequently Asked Questions
What type of fillings are used in a pie?
Usually, the pie consist of sweet fillings like custard or fruit however, we can add savory fillings like a chicken pot pie.
How long should you let pie cool before eating?
If we prefer a warm pie then cover the pie with foil loosely and heat at 300 F for 15-20 minutes before serving the dish. Fruit pies need 4 hours whereas, custard pies need 2 hours of cooling.
Can I let a pie cool overnight?
After cooking makes sure pies are safe. Cool the pie at normal temperature for 30 minutes after baking. Placed the pies in the fridge for cooling further.